Oh where do I begin. Let's go back to 2010 to start this story. I was racing my father's car powered by an alcohol injected 377 cleveland. During the time I was racing it, the block broke. It broke the #2 main web. During dis-assembly I found the old Fisher damper fit the crank snout incredibly loose. After speaking with a couple of guys much smarter than me, it was pointed out that a poor fitting balancer will cause main webs to break. Figuring that was the issue I had the crank checked, it was straight, had another block machined (4 bolt block, studded, align honed, filled, etc) and put the motor back together using the ATI balancer (internally balanced) that I had on my 402 clevor. I ran the motor for 3 yrs and put somewhere around 300 passes on it. It ran good, I won a track championship, went a bunch of rounds, and over all is a good motor. I didnt go racing this past year at all as I was chasing gremlins in the new windsor I had built for my gf's car. I finally got it about straightened out so I pulled the motor out of my car to put rings and bearings in it and have the heads gone thru. The rod bearings looked good, the main bearings looked almost like new. But upon further inspection, this is what I found.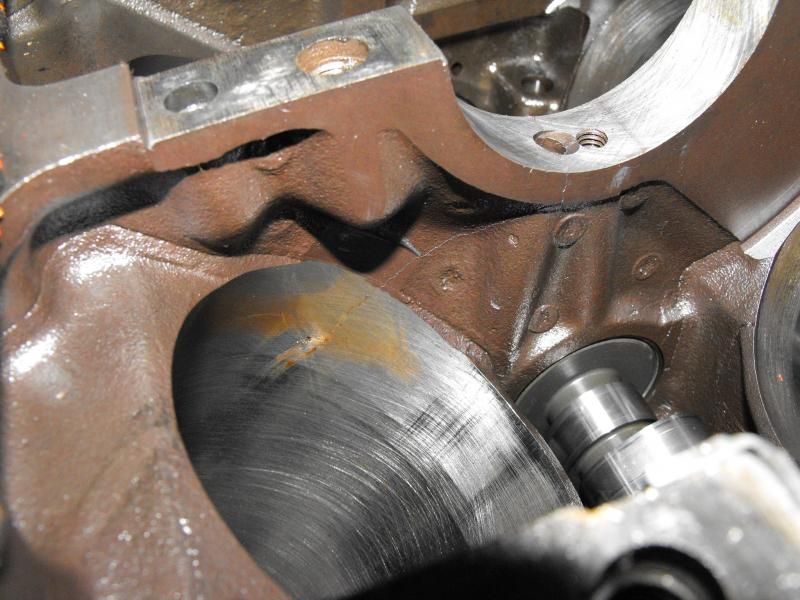 And before anyone asks, I shift it at 7000, cross the stripe around 6800-7000 (1/8 mile only), and only have 35* of timing in the motor.
Yep, it broke the #2 main again. So, at this point about now we are looking at either the balance being off, or the ATI I put on it is fouled up. This thing was still running good when I parked it, but it had slowed a bit which I contributed to it needing new rings. It is showing a touch of cap walk, which according to a fellow racer could be contributed to me not torquing the mains tight enough with the ARP lube. I guess the old lube needs different torque specs than the new lube (like 15 ft lbs more than I torqued them to.) Either way, that could explain the cap walk using the factory caps. It was recommended I put steel aftermarket caps on the block to help get rid of the cap walk. At this point, I am not willing to put this motor back together until I figure out what is wrong with it. One of these times it will break and wipe out either those expensive rods (Oliver billet) or ruin the expensive crank (Crower forged steel.)
Since I want to go racing but dont want to throw a grand (might not be that much, but at this point might as well be) at maching a block for splayed caps, filling it, boring it, align hone, etc, I decided I would throw a stock rod motor together and run some 6.40's. My mindset is/was; I have a block to use, I have new rings and bearings, have a good cam for that combo and a set of heads already set up for that cam, could re-use my timing chain and oil pump, and other than head gaskets, have everything sitting on a shelf to put one together for practically no money spent right now. And wouldnt ya know it, after taking my stone hone to the block I thought was good enough to use, I found it is also F'ed up and needs a sleeve. I have another block that is already bored, but it needs filled and also needs a sleeve. Man, I cant catch a break.
Edit= I forgot to mention I am incredibly close to selling ALL of my cleveland stuff, taking a loss on it and building a stroker windsor and probably run faster than I am now without constantly breaking shit.