Time to go 3G small case - I don't have any issues in the Falcon with big fans, electric pump, fuel pump, ignition, etc. The dragster runs a bitty "50A" denso clone. I'd upgrade it if I could find the right parts. It keeps things alive during a run but I back up the cool down with the charger set on 10A. Alternator set me back $45 from the scrap yard.
Yea, your 60' gives away the tight converter. FWIW, in the Falcon I run a 10" from Freakshow that flashes 4600 and 60's 1.62. Michael makes good converters. It's a bit much for the street but I can putter around locally - say 3-5 miles of the house - a bit if I want. Same converter would go 1.58 in the Mustang with the right intake. Note I have to run the older 2V Funnelweb on the 4V motor because that's all I have, at least until I can afford an AFD intake or find another 4V web intake.
Old picture but this is the fan setup in the Falcon, now using an electric pump. The small case 3G has not trouble with it. 13.5+V with everything running. I also have an override switch to run the fans and pump after a round. Takes maybe 3~5 minutes to go from 200F down to 160F, so no battery issues during race day.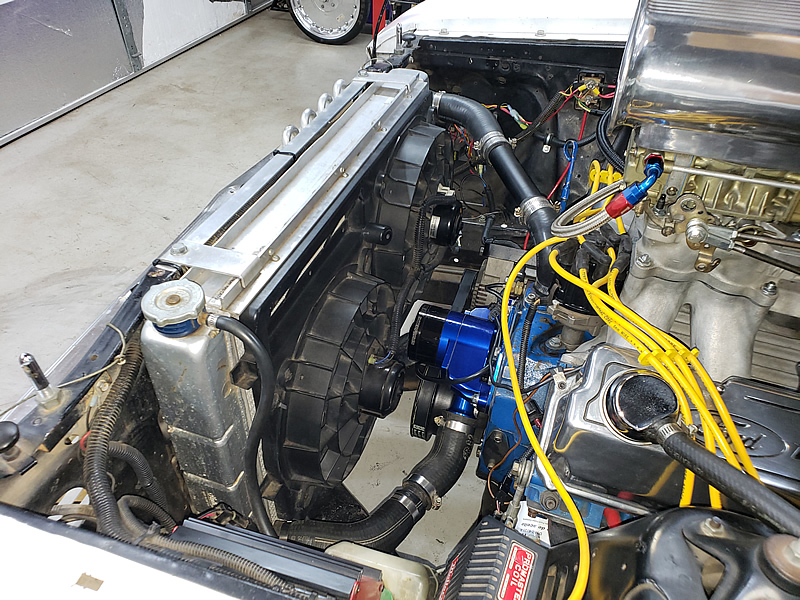 PS, my wife HATES taking any video. Pictures, OK. No video. Since her camera can take 8 frames/sec, that's good enough.
_________________
Chris - Merkel, TX
http://raceabilene.com/kelly/hotrod
"Owner built, owner abused."